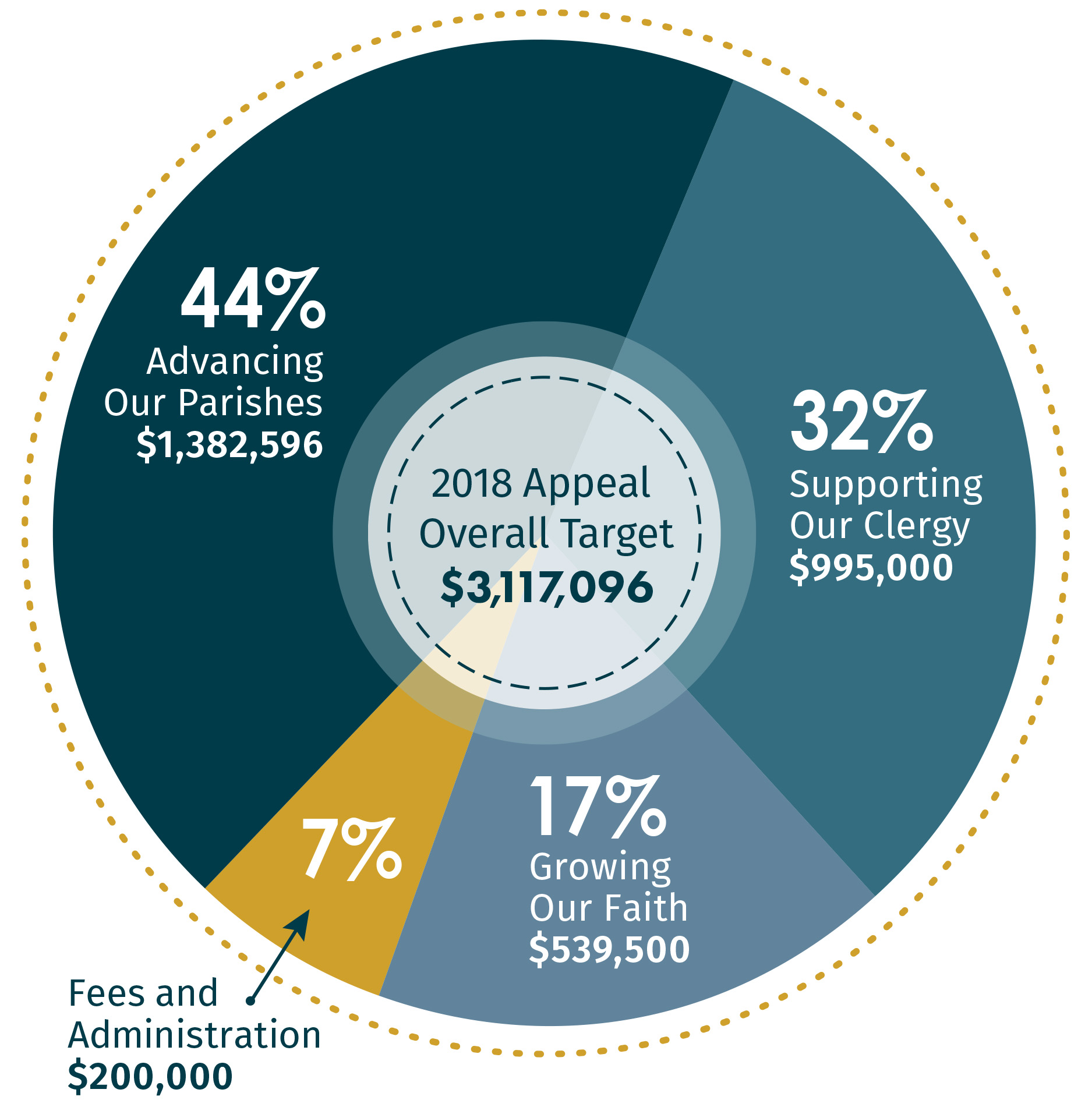 Building Our Family of Faith
This year's theme is inspired by two sources. The first is Galatians 6:10: "So, as we have the opportunity, let us do good to all men, especially to those who are of the household of faith." The second is from Pope Francis and his reflection during the Feast of the Holy Family in 2017: "Christian families are missionary families. …They are missionary in everyday life, in their doing everyday things, as they bring to everything the salt and the leaven of faith!"
Advancing Our Parishes
$1,382,596
Parish Sharing ($665,596)
Support the needs of our parishes by returning a sizable portion of the dollars collected from the Appeal effort.
Fuel and Hunger Fund ($300,000)
Provide groceries, heating, rent and shelter assistance to children, families in need and the elderly across the Diocese.
Christian Formation and the Lay Ecclesial Ministry Institute ($202,000)
Develop lay catechetical leaders by building theological understanding, shaping pastoral skills and strengthening Catholic identity.
The Basilica of St. Mary of the Immaculate Conception ($100,000)
Aid in the restoration of the parish and historical landmark by helping repair its stained-glass windows.
ParishSoft Implementation ($65,000)
Support the ongoing implementation of ParishSoft, a church database solution, in all parishes.
Home Mission Grants ($40,000)
Provide a variety of assistance to mission parishes such as funds for capital improvements, outreach ministries and specific ministry costs.
Liturgy and Worship ($10,000)
Further understanding in the areas of liturgical prayer, sacramental celebrations and Diocesan liturgies.
Supporting Our Clergy
$995,000
Seminarian Education ($400,000)
Fund the cost of room, board, tuition and health insurance for our thirty seminarians.
Priest Support ($290,000)
Provide parishes additional pastoral support by offsetting a portion of the compensation of 7 priests assigned in various roles across the Diocese.
Retired Priests ($200,000)
Supplement health insurance and pension for our priests who have given their lives in service to the Church.
Clergy Formation and Advanced Study ($65,000)
Support continuing formation of our clergy and advanced degrees in Canon Law and Theology.
International Priests ($40,000)
Pay for legal costs for our current international priests working in our Diocese.
Growing Our Faith
$539,500
Campus Ministries ($175,000)
Expand opportunities and events for college students to deepen their commitment to the Catholic Church.
Youth and Young Adult Ministries ($100,000)
Provide formation opportunities for youth and young adults aimed at community building, prayer, worship, service and education.
Segura Educational Initiative for Children ($70,000)
Offer stipends to bi-lingual Latino advocates who serve children in Catholic Schools.
New Evangelization ($62,500)
Build the infrastructure needed to welcome home fallen away Catholics and those who are new to the Faith.
Hispanic Ministry ($60,000)
Empower our Hispanic population to become leaders in their faith communities.
Center for Marriage, Family and Life ($42,000)
Strengthen and enrich Catholic and interfaith marriages, family life situations and issues pertaining to the dignity of human life.
Diocesan Bicentennial Celebration ($30,000)
Establish full funding for an oral history project and work with parishes to preserve and restore their patrimonial items for exhibition during the 200th anniversary celebration of the Diocese.
Funds raised in excess of the 2018 Appeal overall target are shared 50% with the parishes. The remainder will be allocated among the Case for Support items with oversight from the Pastors Advisory Committee.
Fees and Administration
$200,000
The Catholic Community Foundation of the Diocese of Richmond promises to conduct the Appeal in a cost-effective manner while realizing the highest impact possible. Fees include critical operational aspects such as mailing, printing, salaries and banking. This year's Appeal fund allocation of 7% marks the lowest percentage since the Appeal was revamped in 2010.