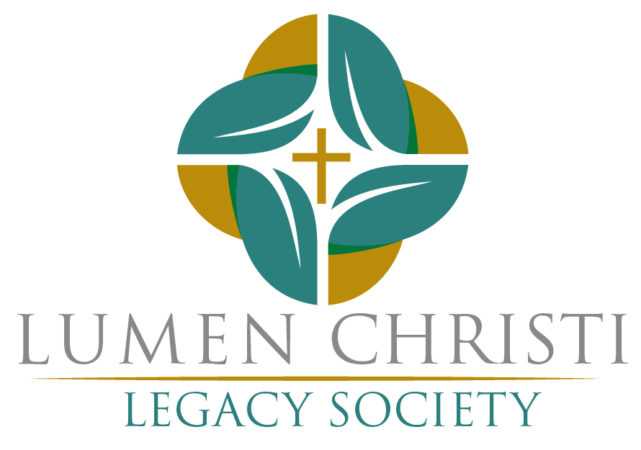 Lumen Christi means "Light of Christ" which is the light in all things, which gives life to all things, which is the law by which all things are governed. This power is an influence for good in the lives of all people and members of the Lumen Christi Legacy Society share in this purpose.
The Lumen Christi Legacy Society was established to recognize and thank supporters who have named the Foundation or a Catholic entity of the Diocese of Richmond in their estate plans or established a named-donor fund with the Catholic Community Foundation.  Members of the Lumen Christi Legacy Society are led by their faith and values to preserve our Catholic heritage and ensure everlasting giving for the future. This is a witness to fulfilling our call to walk in the Light of Christ and create a legacy that lights the future.
Special Recognition:
Lumen Christi Legacy Society Annual Mass & Luncheon, and Tour of the Pastoral Center
Keepsake Photograph with Bishop Knestout
Lumen Christi Legacy Society lapel pin
Access to the Director of Planned Giving for personalized legacy planning consultations
Create Your Legacy Today:
You can create your legal Will for free using this trusted resource and create a bequest in just 20 minutes online. If you would prefer to finalize your plans with an attorney, you can also save time with your lawyer by using this resource to document your wishes first.
If you have named a parish, school, ministry or the Catholic Community Foundation as a beneficiary in your estate plans, please complete our Intention Form and provide a copy to Maggie F. Keenan, Ed.D. Statement of Intention Form – Catholic Community Foundation of the Diocese of Richmond
All information is held in the strictest of confidence.  For more information about legacy giving, please contact Maggie F. Keenan, Ed.D., Director of Planned Giving, at 804-622-5221 or [email protected]