BUILDING OUR FAMILY OF FAITH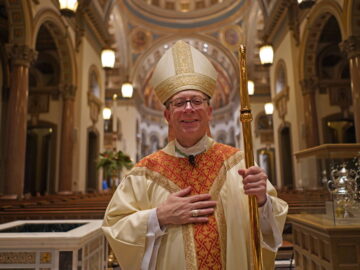 A Message from the Most Reverend Barry C. Knestout, Bishop of Richmond
This past year has been unlike anything I could have imagined. And yet, through it all, I have witnessed the unshakable faith of our priests, leaders and families.
Our faith and our mission continue with strength and perseverance.
When the pandemic hit, the Diocese of Richmond came together to help our parishes learn new skills and expand their presence online. In addition, resources were mobilized to support many critical ministries. I am so proud of all that we accomplished together, and I am committed to building on these successes in the year ahead.
The 2021 Annual Diocesan Appeal is the yearly opportunity for us to engage the next generation, provide for those in need and build Catholic communities.
It is the critical next step for our Diocese and our parishes. In the spirit of faith and mission, I pray that you will consider making a generous pledge to this year's Appeal.
2021 APPEAL CASE FOR SUPPORT — OVERALL TARGET: $3,749,911
THE CASE FOR SUPPORT