– Together, we bestow His first fruits –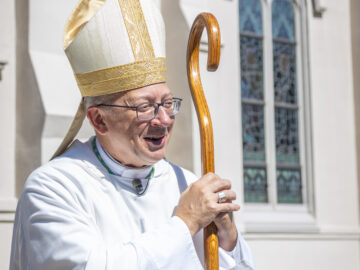 A Letter from Bishop Barry C. Knestout
"Take some of the first fruits of the harvest and set them in front of the altar of the Lord your God." – Deuteronomy 26: 2,4
Stories of the faithfulness and fruitfulness of God's bountiful blessings fill Sacred Scripture.  As God is the source of all good gifts, the people of Israel were commanded to give back to him "some first fruits" of the harvest, which the priest would set "in front of the altar of the Lord, your God" (Deuteronomy 26:2,4).  As Catholics, these stories remind us to generously, willingly, and continuously share our gifts with a faith-filled spirit.
You and I are called to share our blessings to build up the Body of Christ and extend the Kingdom of God. One of the ways that we plant seeds for this purpose is by supporting the Annual Diocesan Appeal.
When you contribute to the Appeal, you are sharing your gifts with those in your local community as well as those you may not ever see. The sacrifice you make when supporting the Appeal allows the harvest to be reaped by many.
Our Lord teaches, "Your Father knows what you need before you ask him" (Matthew 6:8). We can therefore trust in God's provision for us and that he will use our gifts to bless others. Please join me in thanking God for His gifts by sharing them lovingly. In recognition of the bountiful harvest of God's love, take what is best – His first fruits – and bring them to the altar.
2022 APPEAL CASE FOR SUPPORT — OVERALL TARGET: $3,981,000
THE CASE FOR SUPPORT
*New Case for Support Ministry